Wrapping Up Harvest 2017
Harvest is wrapping up here as we take in the last of the Alta Loma Grenache, which seems to be this vintage's giving tree. Not to worry though, as the unanticipated excess will go into our next vintage of Vin Gris de Cigare, which has been continuously a vintage sell out.
In the broader scheme of things, this year seemed to fall in line with the more historic pre-drought years. Picking times were about 2-3 weeks later than they have been in the last 4 years, and quantity was above average. A couple of heat waves put us on edge for a moment, but just as the Brix (measured sugar content in grapes) often jump up during the heat, they also have the tendency to back down when followed by cooler temperatures, allowing for a little more hang time, balance, and structure. For now, it's time to put our snips away and start soaking up those empty barrels patiently waiting in the cellar.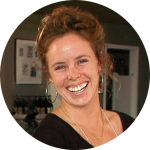 ― Helen Ziegler,
Popelouchum Vineyard & Farm Assistant